We all go through times when we may need some extra help from our community, but we know that you have many responsibilities outside of your GoFundMe fundraiser, so we want to make the process of thanking donors as simple as possible. You can even send Thank You notes to all your donors at the same time.
How to thank your donors

:
Sign in to your account

and select the correct fundraiser

Scroll down to "Donations"

Select "Say Thanks" under the donor's name and type your message in the field

Click "Send"
If you would like to thank all unthanked donors, there will be a banner under your donations tab where you can select to "thank all unthanked donors at once".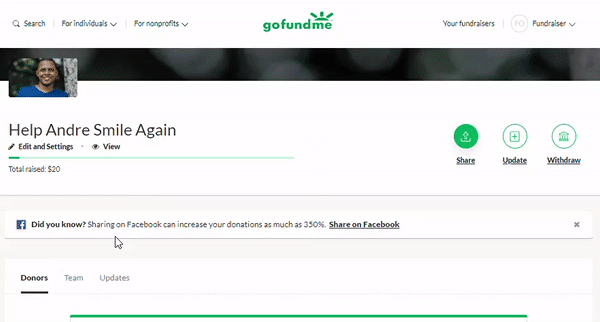 Steps to send a thank you note from a computer or mobile device shown above, app shown below.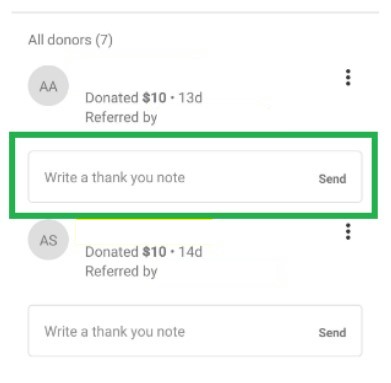 Reasons to Thank Donors
Show appreciation

for your donors and recognise what they have done to rally round.

Keep up the momentum

by encouraging the people who are already supporting you to spread the word and share.  Once your donors start sharing your fundraiser for you, there can be a ripple effect. Friends of friends will see your fundraiser and might donate as well.

Communicate

with your donors directly if you do not know them personally. Your donors will have the option to reply to your thank you message too, enabling you to communicate with each other securely.

Ask for other contact information if you would like to follow up about your fundraiser outside of GoFundMe.
Here is an example of a well-crafted thank you note: 
Hello <Donor Name>, I can't thank you enough for your generous donation to Sparky. It means so much to me and it's really going to help his recovery. We'd be very grateful if you could share our fundraiser link, <Add Link Here>, with any animal lovers you know, by email, text or on social media. Spreading the word is incredibly helpful to our success. Thanks again!