You will need to verify your email address during the withdrawal set-up process. To do this, you just need to find the email with the subject line "Verify your GoFundMe email address" and click the green "Verify email" button.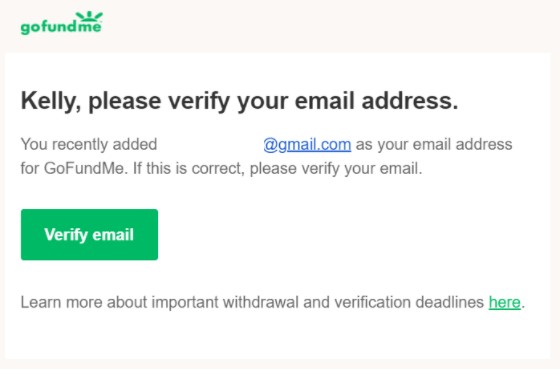 If you are having trouble receiving your verification email, first make sure that the email address on your GoFundMe account doesn't contain any typos, then have a look at these quick fixes: 
Check your spam or junk folders

: Sometimes email providers will filter automated emails to your spam or junk mail folders. Search for a message with the subject line "Verify your GoFundMe email".

Add the email "messages@gofundme.com" to your contacts

: Some email providers have strong security filters in place that block emails from unknown sources. Adding this email address to your contacts will ensure that your email provider knows this is a trusted source.

Update your GoFundMe account email address:

There are some email providers that are unable to receive automated emails from GoFundMe. This is particularly true for custom email domains and providers. If this is the case for you, we recommend

updating your email address within your GoFundMe account

so that you can receive important withdrawal-related emails from us in the future. Major email providers such as Gmail, Hotmail or Yahoo will work best.
Contact our support team: If you have tried all the solutions above and are still having trouble, please contact our team so that we can help.