Important expectations about the withdrawal process
When withdrawing the funds into an organisation's bank account, there are several things to bear in mind:
Beneficial administrator - Our payment processor may request the name and identification of the person who will be in charge of the withdrawals.

Necessary documentation - Our payment processor may require additional documentation to finalise the withdrawals.

Organisation's government registration (such as articles of incorporation, articles of association or certificate of incorporation)

Colour photos of both sides (front and back) of an official piece of ID for the beneficial owner of the organisation

A picture of the bank statement of the organisation's account

Verification timeline - When the documentation is received, it will take our payment processor 1-2 working days to complete the review.

Withdrawal timeline - After the verification process is complete, the funds will be sent out and will arrive in the bank account in 2-5 working days.

Please note that some US and Canadian accounts will not use this process for withdrawing funds to an organisation account. Please refer to this article for more information
You should have received an email to verify your account when you started the campaign. Simply follow these instructions to have the donations sent to your organisation's bank account:


Step 1. Start by selecting "Withdraw" on your campaign Dashboard.
Step 2. Verify your phone number.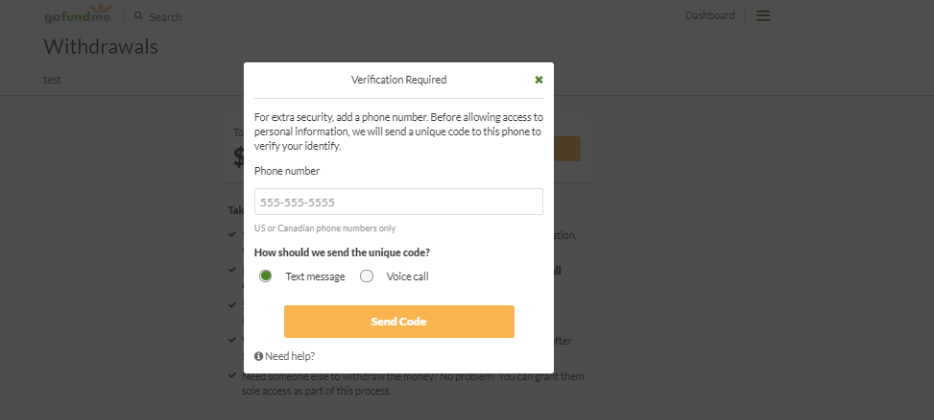 Step 3. Select "Myself" under "Who will withdraw the funds?"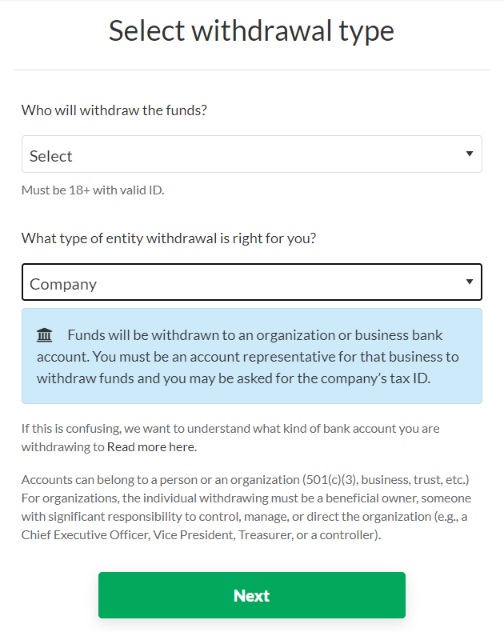 Step 4.

Select "Company" or "Partnership" under "What type of bank account will be used to withdraw?"
If your organisation doesn't fall entirely into one of these categories, you can select whichever is closer to your situation.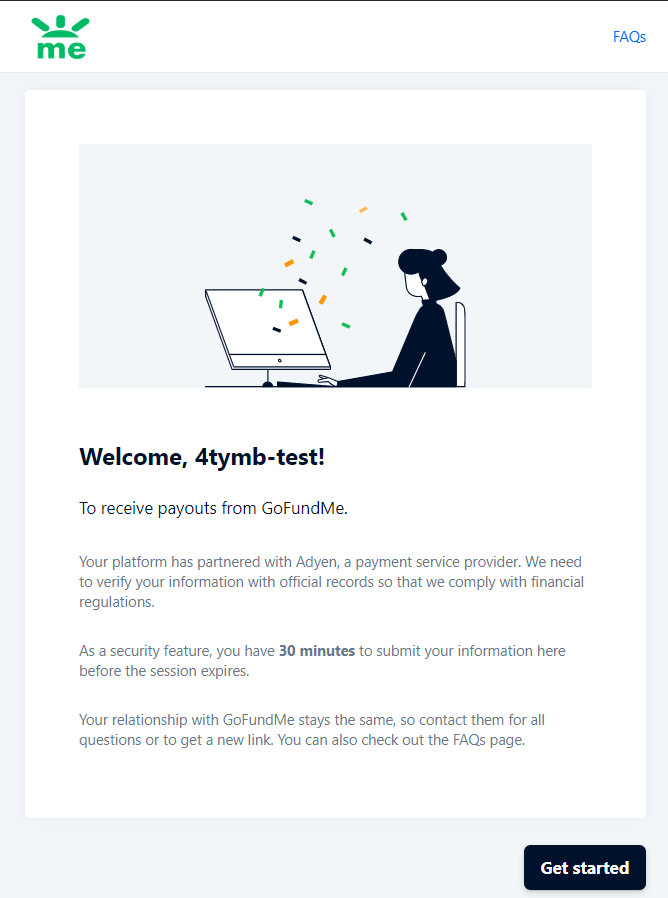 Step 5.

Add your company information.
You will be required to enter the following information:
The legal name of the business as it appears on government forms
The DBA (Doing Business As) name of the business
The tax ID, company number or EIN (US) connected to the business
The business phone number and email address
The business address
Step 6. Add your organisation's bank details.
You will be required to enter the following information:
Account number or IBAN (European accounts)

Routing number (US) or branch/sort code (European accounts)
Step 7. Add your personal information.
You will be required to enter the following information:
Full first and last name (ensure that this name matches that shown on your identification)

Home address

Phone number

Date of birth

The last four digits of your SSN (US)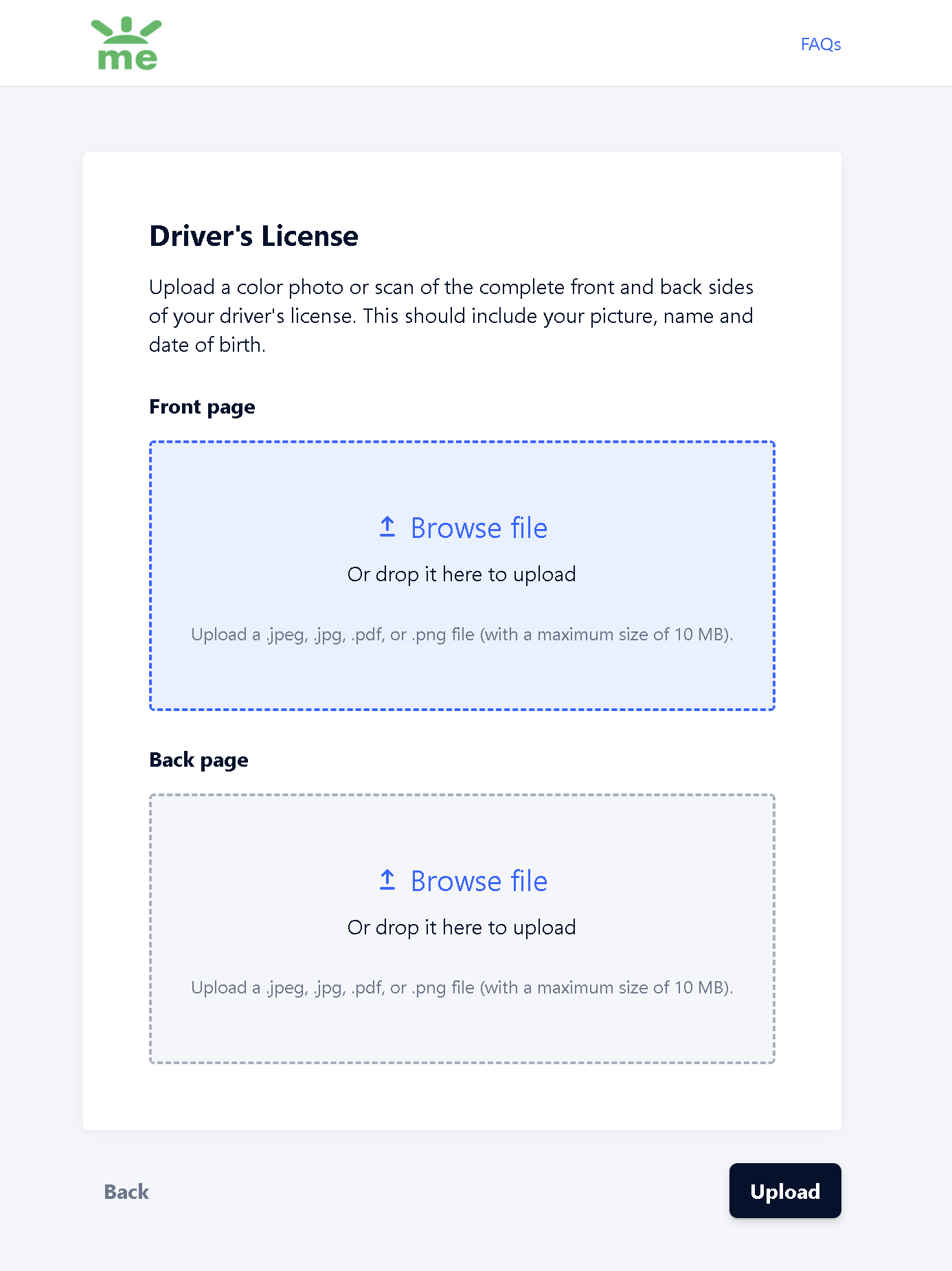 NB: Please keep an eye on your email inbox (and spam folder) for an email from our team with the subject line, "Important Message from GoFundMe". If you receive it, please respond as soon as possible. Our team will need to work with you to complete further verification before funds can be sent.
For simple troubleshooting tips, please review this article. 
If you have set up the withdrawals and have been asked to provide documents, please complete this form so that we can assist you directly here.