Please note that you will need to verify your account before starting this process. Our payment processor may require this documentation to verify your account details.
Please ensure you have all of the following documents:
Official government-issued identification.

This can be a driving licence from your country or a passport from any country.

Official bank statements including the following information:

Your bank logo or bank letterhead (must be issued by the bank).

Your name as the account holder.

The bank account number you will use to withdraw the funds.

Your sort code if in the UK or Ireland.
You should have received an email to verify your account when you started the campaign. Simply follow these instructions to set up the donations to be sent to your personal bank account:
Step 1. Start by selecting "Withdraw" on your campaign dashboard. (If using the GoFundMe app, select the "Bank transfer" button.)

Step 2. Verify your phone number.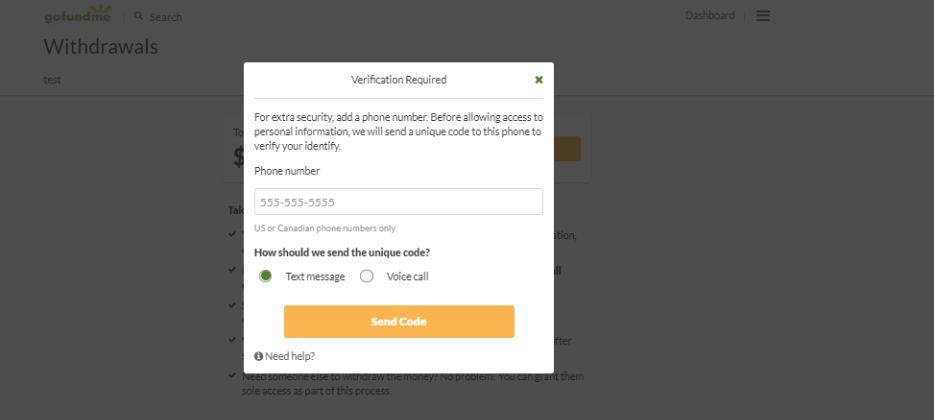 Step 3. Select "Myself" under "Who will withdraw the funds?"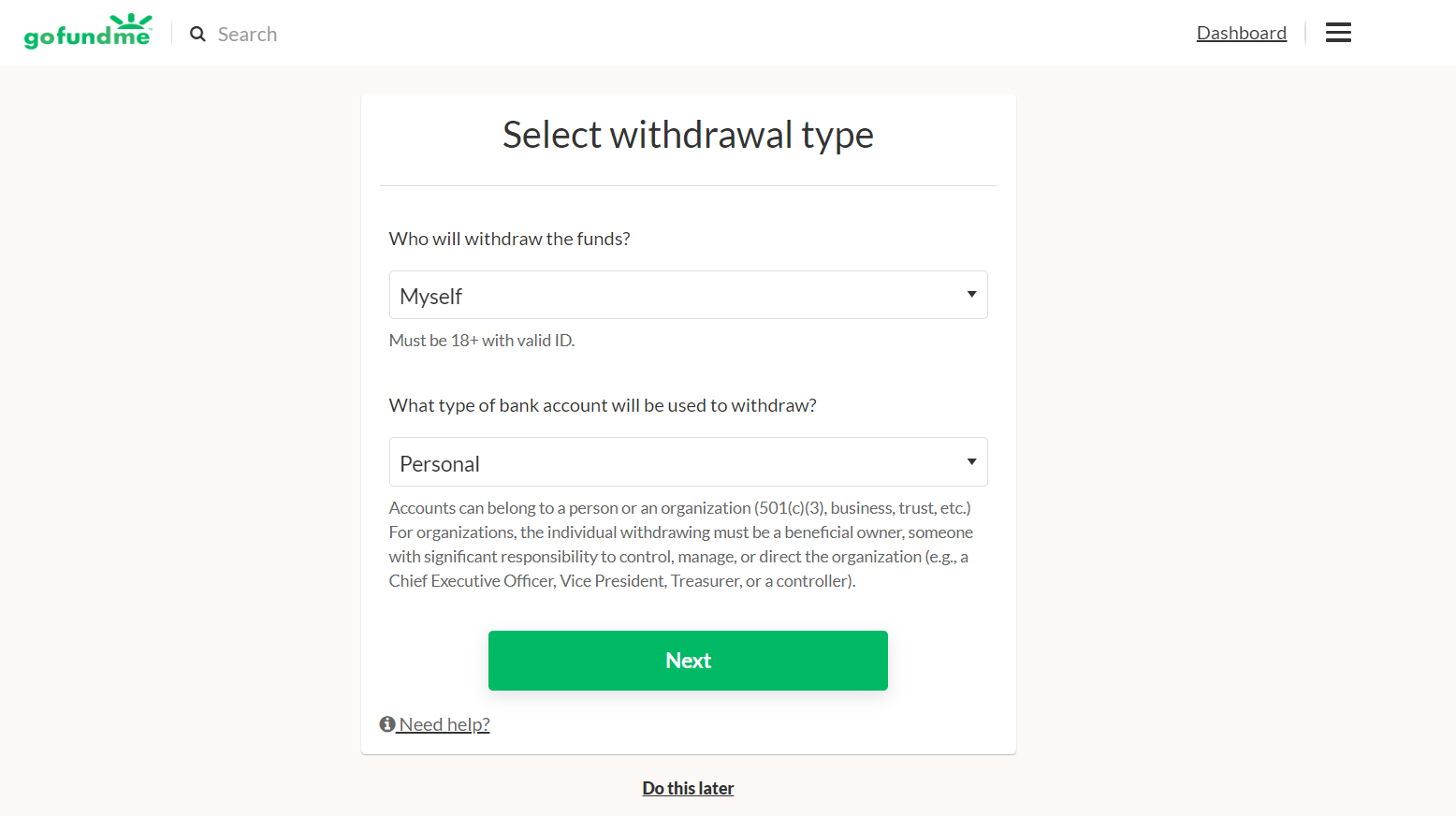 Step 4. Select "Personal" under "What type of bank account will be used to withdraw?"
Step 5. Add your personal information.
You will be required to enter the following information:
Full first and last name (ensure that this name matches that shown on your identification)

Home address

Phone number

Date of birth

SSN or ITIN (US) or National Insurance Number (UK)

ID or Passport Number.
Step 6. Add your bank details.
You will be required to enter the following information:
Account number or IBAN (European accounts)

Routing number (US) or branch/sort code (European accounts)

Bank address
Important expectations about the withdrawal process
After you've added your bank details and set up withdrawals, new donations that come into your account will go through a verification process which can take 1-7 working days (weekends and Bank Holidays do not count as working days).

Once they become available, all verified donations held within the account will be automatically sent at the frequency that you choose (daily, weekly, monthly) and will be delivered to your bank account in 2-5 working days.
NB: Please keep an eye on your email inbox (and spam folder) for an email from our team with the subject line, "Important Message from GoFundMe". If you receive it, please respond as soon as possible. Our team will need to work with you to complete further verification before funds can be sent.