This article is for those who intend to transfer the funds directly to a company bank account. If you intend to transfer the funds to a personal bank account, please check out this article for more information. These directions will also not apply to you if you created a charity fundraiser.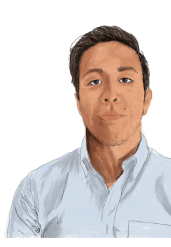 Hello, I'm Matt. Please note that the person who sets up bank transfers for an organisation must be a financial administrator for the business.
This is someone who is authorised to handle funds on behalf of the organisation, such as a treasurer, vice president or owner. You can add this person as the beneficiary by selecting "someone else" for "who will receive the funds?" in the transfer flow.
If you're raising funds for a business and you aren't associated with them, you'll need to transfer the funds to your personal bank account and then send them to the business outside of GoFundMe.
How to set up transfers for your organisation
Step 1:  Select "Bank transfer" on your fundraiser dashboard
If you can't see the bank transfer option, this is probably because you are a team member or have a charity fundraiser and are not in charge of the transfers. 
Step 2. Confirm your email
If you haven't already done so, you will need to confirm your email address. Click here if you haven't received the verification email. 
Step 3. Verify your phone number
If you haven't already done so,  you'll be prompted to verify your phone number. This is an important security feature called Multi-Factor Authentication and it's just one of the ways we are protecting your information. 
In some circumstances, it may also enable us to send you important reminders about your account, such as a notification that your transfers have not been correctly set up so donations may be returned to donors.
NB: Enter the 5-digit code contained within the message and not the 6-digit number the code is sent from. 
If you are having trouble verifying your phone number, please see this article. 
Step 4: Select transfer type
This section asks whose bank account will receive the funds.  Let's take a look at those options below:
If funds are going to:

"Who will receive the funds?", select:

"What type of bank account would you like to link?", select:

An organisation's bank account that you manage

NB: You must be a financial administrator of the organisation's banking information 

Myself 

Company or Partnership (you can select either)

An organisation's bank account that someone else you know manages

Someone Else**

Company or Partnership
**When someone other than the organiser is going to be responsible for receiving funds, we call them a beneficiary. They will be responsible for the transfer steps 5 - 7. Before you select this option, make sure that this person: 
Meets the

requirements to receive funds

on behalf of the company (they are a business owner or financial administrator)

Is prepared to take this on. While changing the beneficiary is an option, it requires consent from both you and  the original beneficiary. 
You can learn more about the beneficiary process here.
Step 5 - 7  will be completed by the business owner or financial administrator of the account the money is going to be paid into.  If you have added a beneficiary, they will complete these steps.
When you select "company or partnership", you will be taken to our payment partner's portal where you can complete the remaining steps. It might look a bit different to the GoFundMe page you were on before, but don't worry, you're in the right place. Please review this article if you are transferring to a club, trust account or unincorporated organisation.
Step 5. Add your company information
You will be required to enter the following information:
Legal name of the business as it appears on government forms

Please make sure to double-check this information, because t

he system automatically adds your campaign link as your business name

DBA (Doing Business As) name of the business, if applicable

Tax ID or applicable company number connected to the business (see below for details)

Business phone number and email address

Business address
Step 6. Add your organisation's bank details
You will be required to enter the following information:
Account number or IBAN (European accounts)

Routing number (US) or branch/sort code (European accounts)
Step 7. Add your personal information
Add the personal information for an owner/controller.
The following titles are considered an "owner/controller":
Chief Executive Officer
Chief Financial Officer
Chief Operating Officer
Chief Information Officer
Chief Strategy Officer
President
Vice President
Executive President
Managing Member
General Partner
Managing Partner
Partner
Treasurer
Director
Even though the funds are going to an organisation's bank account, you will be required to enter the following information to verify that you are authorised to transfer on the organisation's behalf:
Full first and last name (ensure that this name matches your identification)

Home address

Phone number

Date of birth

The last four digits of your SSN (US only)
Once these sections have been completed and verified, they will show up in green as "finished". If one does not display as "finished" but you have submitted the information, additional documents may need to be uploaded. Please check sections that say "incomplete" and see the next steps.
Potential Step 8. Upload documents for verification
Occasionally, our payment processor may need extra information to verify your organisation after you've set up your transfers. If this happens, you will receive an email with the subject line "Important Message from GoFundMe" and transfers will be paused until the necessary documents are uploaded and verified. 
You can submit the requested information via this form.
Documents that may be required include, but are not limited to:
Government-issued ID for the beneficial owner

Copy of the organisation's governmental registration, showing:

US - EIN or SSN for a sole proprietorship

UK/IE - Company number or roll number for a school

AU - Australian business number (AU)

IT - Codice fiscale

FR - Numéro SIRET

ES - Número de Identificación Fiscal

DE - Handelsregisternummer

NL - Kamer van Koophandel (KvK)

Articles of incorporation, articles of association, certificate of incorporation; must show the organisation's registration number:

IRS 501(c) (3) determination letter (only applicable to US non-profit organisations) 

Bank statement for the organisation, showing:

Bank logo or bank letterhead (must be issued by the bank)

Organisation's name as the account holder

Bank account number entered in your GoFundMe account

Date shows it is less than 12 months old
*Bear in mind that the same bank transfer information will apply to any additional fundraisers connected to this GoFundMe account.