Posting on Instagram is a great way to share your fundraiser link along with a relevant photo. There are two types of ways to share your fundraiser on Instagram.
Story
Stories can be very engaging and provide a great way for your followers to learn about your fundraiser. Keep in mind, Instagram stories only appear for 24 hours, so you will want to consider posting a new story on a frequent basis.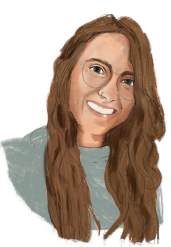 Hi! I'm Jules and I want to share one of the benefits of posting a story.
You can include the direct link to your fundraiser by clicking the "sticker" button (on the top of the story creation page, which is after you select your photo) and then choosing "link". This will make it much easier for people to visit your fundraiser!
To share your GoFundMe link in an Instagram Story:
Open your Instagram app.
Click the + icon at the top of the screen and select Story.
Select or take a new photo to share with your GoFundMe link.
Click the sticker tool from the navigation bar at the top of the screen.
Tap the Link sticker.
Add your GoFundMe fundraiser link.
Place the Link sticker on your story content.
Click the arrow icon in the bottom right corner when you are ready to post.
Click Share next to the Your Story option.
Tap Done to share your story.
Post
Posts on Instagram will stay on your Instagram grid indefinitely. These are a great way to spread the word about your fundraiser over a longer period of time.
To share your GoFundMe in an Instagram post:
Sign into your Instagram account

Click the + icon at the top of the screen

Select the photo you'd like to use for your post, then click "Next"

Add a filter to your photo, if you'd like; click "Next"

Write the message you'd like to use as your caption; make sure to include your fundraiser link

Click "Share"
If you would also like your post to be shared on Facebook, Twitter, or Tumblr, you can toggle the options to do so before clicking "Share". This is a good way to spread the word even more.
You can also post the fundraiser link to your Instagram bio so that it is easier to click, by clicking "Edit Profile" on your Instagram account.