The update feature allows you to keep current and potential donors involved in your journey. Current donors are connected to your success and want to hear from you. Potential donors see updates as a reminder of your need.  
Successful fundraisers typically post an update (or more) a week. Updates will be emailed to all subscribed donors. You can check the boxes to have them automatically added to Facebook and Twitter as well.
When writing your update, consider including the following:
A photo or video

- Images create a connection between donors and your cause. They can see the individuals they're helping and how their money will be used.

New information about the fundraiser

- If there's been a change in use of funds or a status update, you can let your donors know.

A share request

- Kindly ask donors to share with their friends and family if they're able.

A thank you

- Donors support you emotionally as well as financially. Let them know how much you appreciate their good vibes and thoughts. 

Words from supporters

- If a supporter has shared words of encouragement, you could highlight them in an update. 
Here's an example of an update message: 
Hi everyone, I want to take this opportunity to thank you all for your thoughts and donations which have made a big difference for my sick puppy.  
Sparky thanks you too and is feeling a bit better today after his trip to the vet earlier. He'll need to go back next week for more shots.  If you can, please share our fundraiser link <link> with 3 animal lovers you know over social media, email, or text with a quick message about why you donated. Spreading the word is a huge help to us as Sparky continues to recover. More photos to come next week!
We also recommend checking out these fundraisers to see additional examples of successful update posts:
To post an update, follow these steps after signing into your GoFundMe account:
From your fundraiser dashboard, select the ''Updates'' tab

Write your update where it says "Write a new update"

Choose to "Add photo or video"

Decide where to post the update by checking or unchecking the  "Email donors, Facebook, and Twitter" options

Click "Post update"
To edit or delete an update, follow these steps in your GoFundMe account:
Select the "Updates" tab

Select the three horizontal dots beside the update you would like to edit

Select "Edit update" or "Delete update" depending on the action you want to take

If editing, make the desired changes, and then select "Save" to submit. If deleting, select "Delete" to confirm the action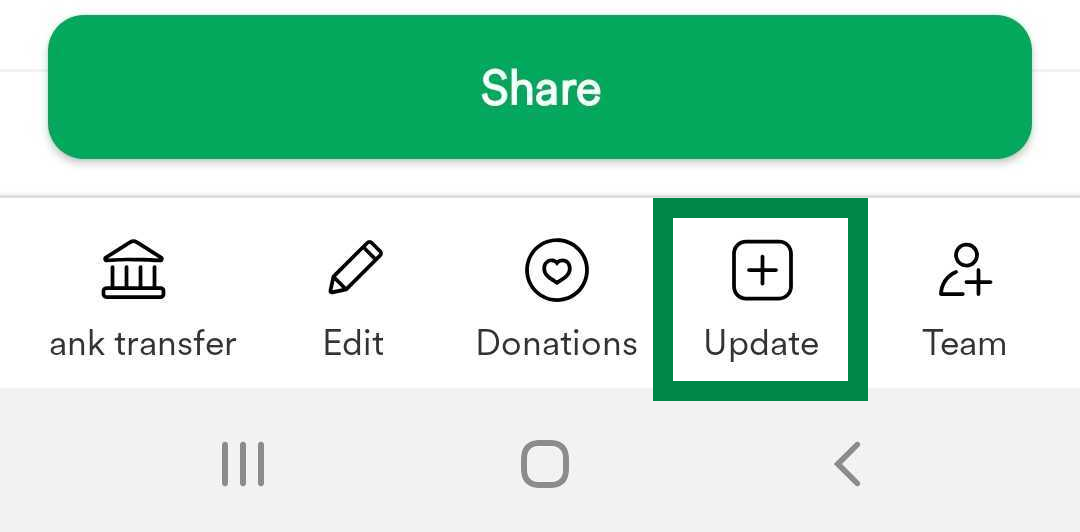 Was this article helpful?
72 out of 102 found this helpful