Thanks for choosing to support a GoFundMe fundraiser. You're making a big difference for someone in need. Below, we've outlined some helpful details and tips to make the donation process as simple as possible. When donating to a GoFundMe fundraiser, the minimum donation amount is $5, and the maximum donation amount is $30,000. 
You don't need to sign up for a GoFundMe account to make a donation. But, if you have an account and are signed in when you donate, you can easily keep track of and manage your donations.
To donate, just follow these steps:
Find the correct fundraiser and select "Donate now"
Enter the amount you'd like to donate and add an optional tip
Enter your payment details under "Payment method"

To donate anonymously, check the box next to "Don't display my name publicly on the fundraiser."
If it's a team fundraiser, you can add your referral with the "Referred by" drop down, or if you weren't referred, leave "Select Team Member" checked.

Confirm donation and tip amount, then click "Donate now". You'll be sent a confirmation receipt
Now that you've made your donation, you'll be able to share the fundraiser and leave words of support.
Share the fundraiser: Sharing the fundraiser will help to promote it, which can help raise more funds. Just choose one of the options under "Now help spread the word".
Add words of support: These will be publicly visible on the fundraiser page. Click "Continue" on the sharing page, and then type your message under "Show more support".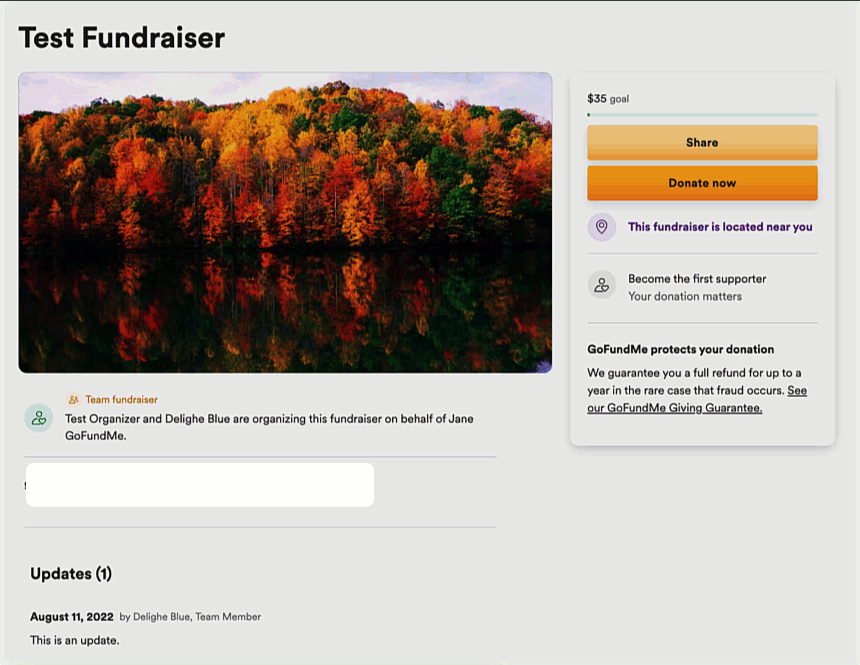 Donors have the option to leave a tip for GoFundMe.
By leaving a voluntary tip, you're helping us do more good in the world, and your generosity helps us provide a safe and secure experience for you and others in our community. The tip can be changed to any amount you're comfortable with, or you can change it to 0 if you would prefer not to leave a tip.
You can learn more about editing the tip amount here.
Donating in a different currency 
You can donate to a fundraiser raising money in a currency different from your own, but it's important to be aware of what currency the fundraiser is using. You can see the fundraiser's currency on the public fundraiser page, and on the "Enter your donation" box when you're making your donation.

Enter the amount you'd like to donate in the fundraiser's currency. You'll then be charged the equivalent of that amount in your own currency.
GoFundMe does not charge conversion fees, but your bank may. If you have questions, please reach out to them directly.
Unfortunately, GoFundMe can't process donations from Belarus, China, Cote D`Ivoire, Cuba, Iran, Lebanon, Macedonia, Nigeria, North Korea, Pakistan, Russia, Sudan, Syria, or Ukraine. We're working on expanding services to support people in more countries, though.
Trouble making a donation 
Please use your own card and email address to make a donation. Do not use someone else's card or donate on their behalf. For the payment information, you need to enter your name exactly as it shows on the card. During check out, you'll be able to make your donation anonymous by checking the box next to "Don't display  my name publicly on the fundraiser."
If you're receiving an error message or your donation isn't processing, please try the following:
Be sure the information and spelling you entered matches the card or the digital payment account you're using. We've found this is the most common reason for an error during the donation process, so it's important to double check.
Clear your internet's history by clearing cache and cookies, using a private browser, or trying a different device.
Use a different payment method, or contact your bank to ensure there are sufficient funds and the bank isn't blocking the transaction.
Multiple donation attempts within a short amount of time may result in the donation failing for your protection. If you've tried all of the above steps and still can't complete the donation, it's best to wait 24 hours and then try making your donation again. If you're still having trouble, you can click the "Contact Us" button to contact our team.