To ensure funds reach you safely, our payment partner may request you upload an image of your government-issued photo ID. The document must meet the following requirements:
Not expired, not a temporary ID

Full legal name that matches bank statement and name entered for transfer set up (ID must belong to an individual 18+ years of age) 

Clearly visible color photo - make sure there are no glare spots

Front and back of ID (as separate images) or full passport photo page

Show all information - don't cover or edit out any information

We need to see all four corners of the document
The file size must be at least 100 KB, but no larger than 10 MB
A few additional tips:
The easiest way to upload an ID document is to take an image with your smartphone camera–it doesn't need to be a physical, scanned image.
Try to set the ID on a plain background.

JPGs work better than PDF formatting.
Please follow these steps to submit your ID for review:
Step 1: On your Transfers page click your bank account card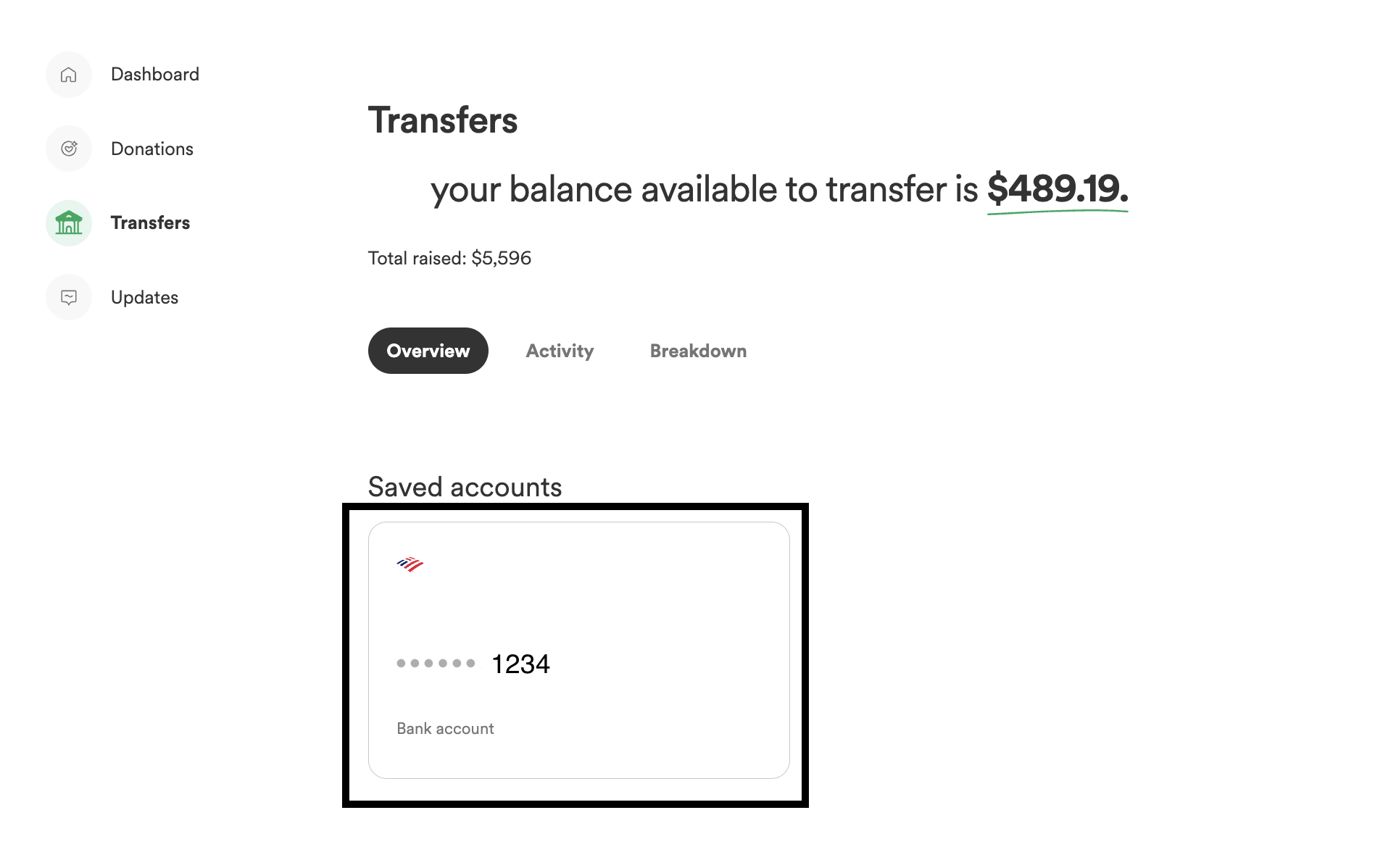 Step 2: Continue to our payment partner's secure information portal and click on your name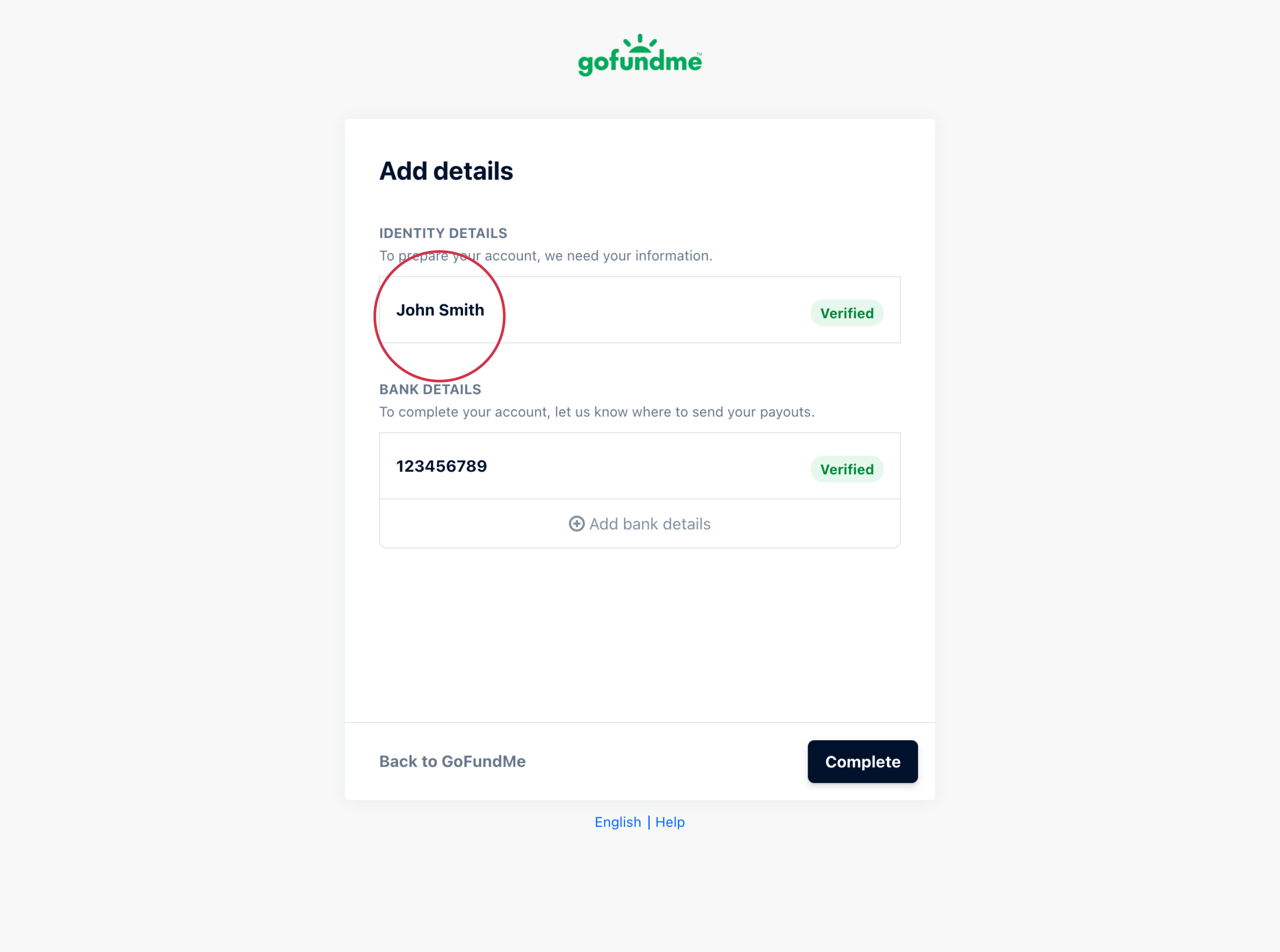 Step 3: Scroll down on the verification page and click 'ID Document'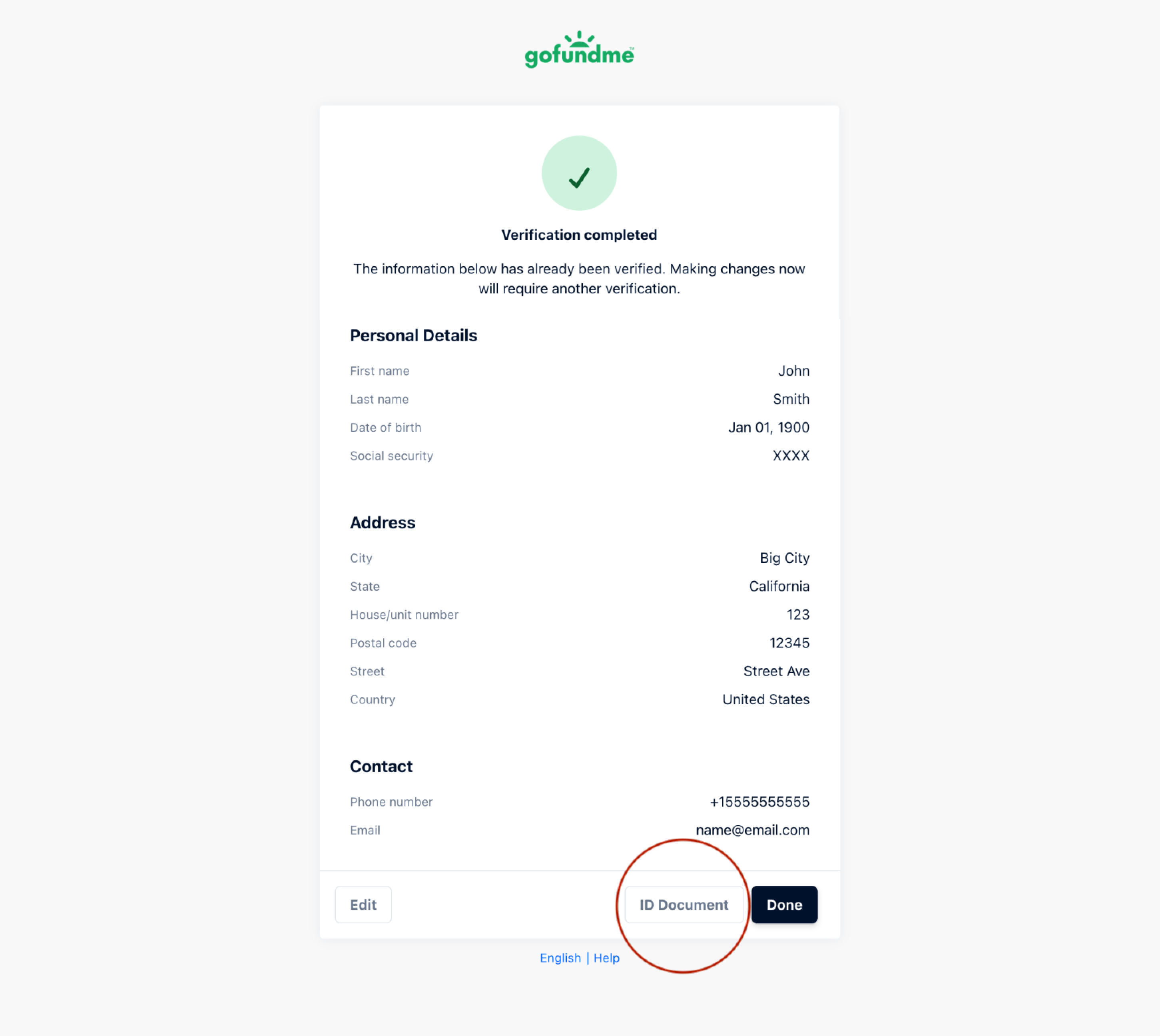 Step 4: Select your ID type and follow instructions to upload your ID images. When you're done, select 'Complete'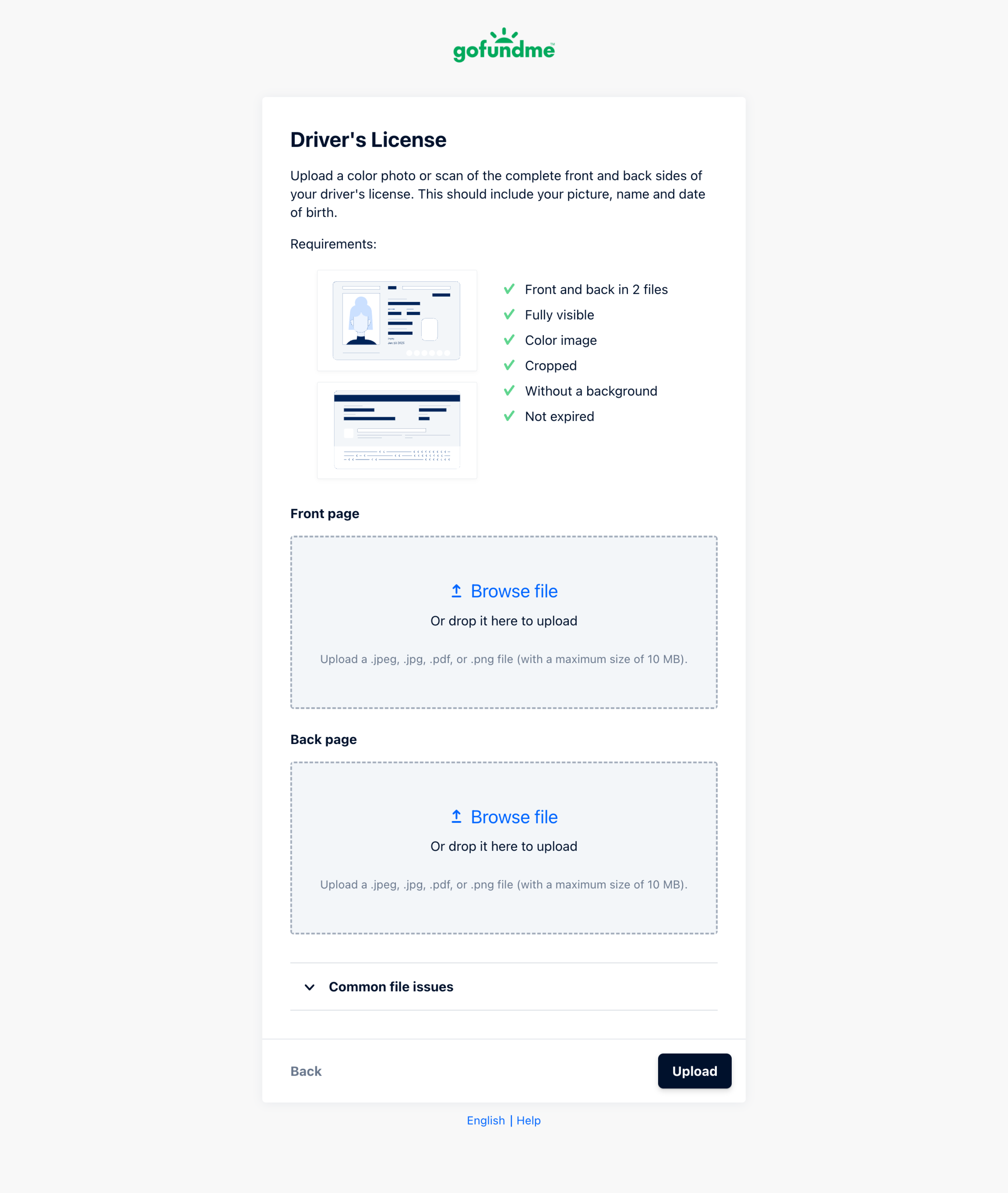 Step 5: Select 'Back to GoFundMe'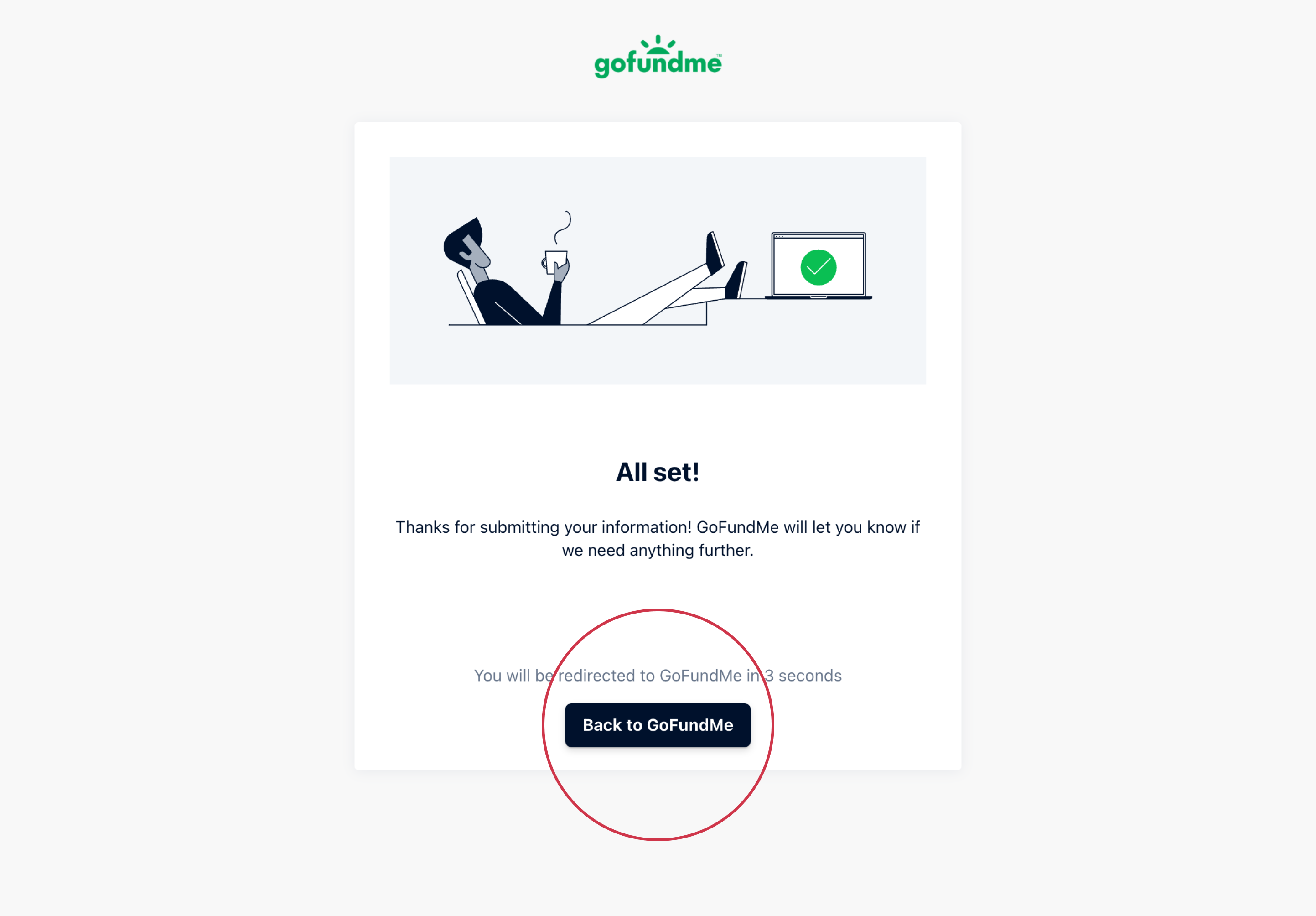 If these steps don't match what you're seeing in your account, please review this article instead.
Re-uploading a document
If you've already uploaded a document that wasn't verified and need to upload a different one, follow these steps:
Initiate process by clicking the link provided in the email titled "

Action required - withdrawal setup failed

" OR from the "Transfers" area of your GoFundMe dashboard

Click on your bank account under "Saved accounts"

Then click "Continue to Adyen" or "Continue to Stripe", depending on your payment partner

Click into the section, identity or bank, that has a red banner, and the button to upload, will be in the bottom, right corner beside the "Edit" button
If you're still having trouble with these steps, please submit this form.