This article will walk you through some of the things that are really important for beneficiaries to know, and our support team will be here for you if there's anything else you'd like our help with.
Responsible for bank transfers
Send thank yous and post updates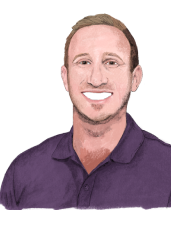 Hi, I'm Kevin. If you have been added as the beneficiary of a fundraiser, I have some helpful information about transferring money to your bank account.
Being added as a beneficiary means that someone is raising money on your behalf, and they want to make sure that you receive it directly to your own bank account.
We know that you might have a lot on your plate right now, so we want to make this process as simple as possible. Please consider the information below when deciding whether or not to accept a beneficiary invitation.
Being added as the beneficiary is the fastest, most secure and trustworthy way to receive funds
If someone has raised funds for you, then it is always best for you to transfer them to your bank directly, as long as you're able to. We want to make sure that you have the funds available to use as quickly as possible, and by doing this, you will have control over the frequency you receive money and will easily be able to keep track of what has been sent.
You will be responsible for setting up the bank transfers to your own bank account
Once you have accepted the beneficiary invitation through your email, and have created your GoFundMe account, you will be able to add your bank account information. You can read more about the process of setting up bank tansfers in this article.
As the beneficiary, you will need to meet all of the requirements, including:
Have a bank account in the supported country the fundraiser was started in

Be 18 years of age or older

Have a

tax ID in the supported country

the fundraiser was started in

Be able to set up the withdrawals through your own GoFundMe account
If you have already set up the bank transfers but are having trouble receiving the funds, please read more here.
Your name will appear on the fundraiser page
The beneficiary's name will always show on the fundraiser page so that donors understand how the funds are being handled. We promote complete transparency on GoFundMe, but if this is an issue for privacy or safety reasons, we understand that you might not want your full name to appear publicly. In those cases, you can make your GoFundMe account name a nickname or alias. However, please be sure that you use your full, legal name when setting up withdrawals (this information will not appear publicly).
The fundraiser page will show your name as the recipient of the funds ("Organizer is organizing this fundraiser on behalf of Beneficiary Name."), and we aren't able to modify that wording. If you're in a situation in which you're withdrawing funds but they aren't actually being used by you, we'd recommend clarifying that information in the fundraiser story or by posting an update.
You can send thank you notes and post updates on the fundraiser
The beneficiary can send thank you notes to donors and post updates on the fundraiser page, but won't be able to edit the actual content of the fundraiser (such as the story or the main image).
Thank you notes and updates are a great opportunity for you to keep donors involved and for you to share any information about what the fundraiser has meant to you.
You can check out these articles to learn more about sending thank you notes and posting updates.
You can change who receives the money if you're no longer able to
If you have already accepted your beneficiary invitation and you would no longer like to transfer the funds, please fill out this form so that our team can help you and your organizer make this change. You can also read this article for more information about that process.
Check out this video to learn how to add a beneficiary: